Confined space entry is one of the most dangerous jobs that takes place during any turnaround or shutdown. Keeping personnel safe while working inside confined spaces without delaying projects and increasing costs is one of the most challenging tasks during turnarounds.
The confined space monitoring system TeQ Shield™ Guardian combines gas detection, video cameras, two-way communication and access control to create an effective solution for confined space monitoring, which improves safety while reducing costs.
From the command center, our confined space operators monitor up to 24 cameras that provide constant visuals of entrance and interior of confined spaces. Contractors, turnaround managers or safety personnel can review the log of events at the onsite command center.
TeQ Shield™ Guardian. Making confined spaces and hazardous environments safer and more productive.
Watch United Safety's remote confined space monitoring system TeQ Shield™ Guardian video.
Flexible, versatile, centralized. Confined space monitoring just got more efficient
With a proven record in turnarounds and shutdowns worldwide, our confined space monitoring system TeQ Shield™ Guardian allows you to unify and centralize safety operations. It provides continuous awareness of the situation in all confined space work in order to mitigate risks and enhance the decision-making process. The system can be linked with area monitoring (PTZ), vehicle gates and entry points such as turnstiles to ensure efficient access control. It has the ability to monitor workers in large areas of over 5 kilometers to ensure that everyone is clearly accounted for. Data is logged and synchronized with video allowing owners to review incidents. It significantly reduces cost, decreases liability, and facilitates site management due to fewer personnel being on site. The system is flexible and can be scaled to site-specific requirements.
New Method for Confined Space Management
12 entries were selected to utilize the system on.
Each entry would be active simultaneously and be active 24hrs per day.
24hr Continuous gas monitoring for H2S, CO, LEL & O2
Contractors Trained on using system(1hr)
450 access Cards issued including name, company, certifications, trade/craft/skill
Rig in time 412 hour shifts
24 cameras(2/entry point)
12 Access control device
12 communication device(interior)
Key components of Remote Confined Space Monitoring System
Access control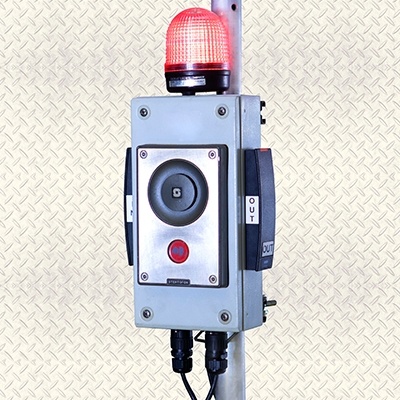 Allows authorized individuals to gain access to a confined space with their site badge. When the badge is scanned a clear red/green light notifies the worker if access has been granted. The access control component allows for both an accurate count of who is present in the space, and also doubles as an emergency lighting and evacuation system.
Communication
Two-way communication is installed outside and inside the confined space to keep personnel in constant contact with the command center. It can be used for access control questions or to correct safety practices remotely. When connected to the internet, the communication system allows users inside vessels to speak with personnel offsite as well. This facilitates communication with managers, subject matter experts or safety personnel, improving safety at the worksite.
Video surveillance and monitoring
Cameras allow for clear visibility in a wide array of work and environmental conditions. All video is recorded along with the gas detection logs, with time stamping and book marking for training, investigations, and liability control.
Hazardous gas detection and monitoring
Real-time gas detection continuously monitors the work zone for hazardous gases such as Oxygen, Carbon Monoxide, Carbon Dioxide, LEL and H2S. Gas readings are logged in the system and matched to the video recordings for future use. If a hazardous atmosphere is detected, audible and visual alarms ensure proper evacuation of the vessel or area.
Command Center
From inside the command center, our highly trained professionals monitor the data from the confined space.
Frequently Asked Questions
---