Our real-time location system TeQ Shield™ Tracker – Ensure real-time tracking, monitoring and social distancing of onsite workers
There are hundreds of workers and contractors working on your site at any given time. This number increases dramatically during a turnaround or shutdown. How do you keep track of all your onsite workers effectively? With the current COVID-19 outbreak, how do you ensure that your workers maintain an appropriate social distance? In the event that someone tests positive for the COVID-19 virus, is there a way to track other workers who have come in close contact with the affected person to reduce the risk of virus spread?
TeQ Shield™ Tracker is a family of services that addresses all the challenges above. Since well before the start of the virus, United Safety and its partner, Litum IoT, have been helping industrial clients improve the safety and productivity of contractors during shutdowns and turnarounds. The RTLS (Real Time Location Services) product utilizes a combination of personnel badges and ultra-wide band sensors to identify the location of each person to within a few feet. The underlying software is used to create geofences and business rules with associated badge alerts and reports. This helps our clients improve both safety and productivity in these environments.
TeQ Shield™ Tracker has a broad range of applications across a number of industries. Key among them is discussed below:
RTLS personnel tracking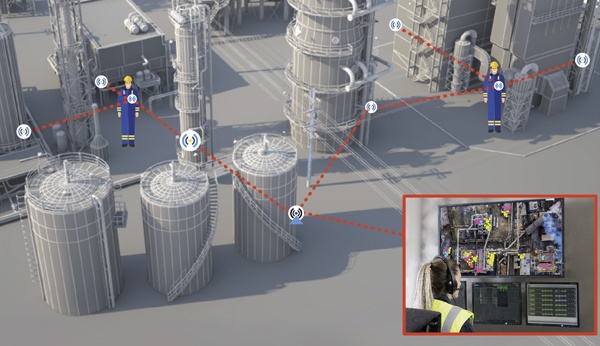 One-stop solution for all your personnel tracking and monitoring requirements.
The TeQ Shield™ Tracker is a flexible, scalable, cost-effective and versatile tracking system that can be customized to your exact requirements. Our real-time location system (RTLS) leverages instantaneous positioning technologies:
Active Radio-frequency Identification (RFID) or Ultra-Wideband (UWB) for real-time monitoring.
Tracking.
Locating and managing your personnel and assets from a central point.
RFID offers positioning by using radio waves to wirelessly transmit the location. UWB imparts precise indoor positioning with less than one-meter accuracy through short-range radio technology.
Maintaining social distance and contact tracing at the worksite
The same real-time location system (RTLS) technology is being applied in the current crisis to reduce the risk of the virus spreading through workplaces. Once implemented, it works on two levels. First, it encourages employees to maintain an appropriate distance from one another, especially when too many employees are congregating closer than a pre-set distance. Second, should an employee be tested positive for the virus, it can identify any others who may have been within six feet of that employee for a specified amount of time within the last 14 days. This contact tracing procedure allows companies to confidentially identify and inform employees who may have been exposed to the infected worker without requiring personally identifiable information.
Vehicle Proximity Alert Safety System (VPASS)
Another unique application of the TeQ Shield™ Tracker is its Vehicle Proximity Alert Safety System (VPASS). In plants, workers are often focused on the task at hand while moving through the plant. Conversations with fellow employees, attention to other functions in the plant and a general increased level of distractions, coupled with the inability to hear oncoming traffic exposes the worker to higher level of risks associated with moving vehicle incidents. Even with increased training and tool box meetings, the risk is still elevated.
The Vehicle Proximity Alert Safety System is designed to provide workers with a warning if they are within a given distance from a vehicle equipped with the system. As a vehicle equipped with the VPASS approaches a worker equipped with a VPASS enabled tag, the worker tag will alert the tag wearer that the vehicle is in close proximity. This alert is a vibration, sound or combination of both. The alert distance is configurable and can be altered in real time based on the location of the vehicle in the plant.
The VPASS can be configured on forklifts, cranes, big trucks and any other vehicles which could pose a potential threat to workers onsite.
---